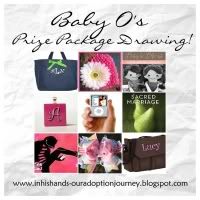 Help this sweet family raise the funds needed to help adopt their sweet Baby O!
Visit In His Hands ~ Our Adoption Journey to enter Baby O's BIG Prize Package Drawing which includes a custom BbB doll!!!!!

Here is how YOU can win.... visit their website (link above) Donate securely using the ChipIn icon at the top of the blog. The suggested donation is $5, but you can donate any amount that you are led to give, as often as you'd like. For every $5 you donate, you will get 1 ticket in the drawing (so if you donate $15, you will receive 3 tickets, and so on). The more tickets you have, the bigger the chances are of YOU going home with one of the prize packages!
Soon after you donate using ChipIn, you will receive an e-mail (at the e-mail address you used while donating) from me that will include your ticket number(s).If you would prefer to donate without being entered into the Prize Drawing, simply let me know when you make your ChipIn donation. Thank you for your generosity!
GOOD LUCK EVERYONE!!